Thank you for visiting the website for the
Maryland Child and Family Development Laboratory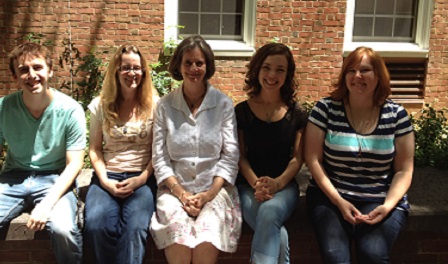 Dr. Cassidy with the graduate students. From left to right: David, Bonnie, Dr. Cassidy, Jessie, Jackie
LAB RESEARCH INTERESTS
socio-emotional development from infancy through adolescence, with an emphasis on attachment and family relationships


social, cognitive, and regulatory mechanisms through which children's early family experiences come to influence later well-being and relationships


links among adolescent peer and family relationships, social information-processing, and socioemotional functioning


early interventions with parents and teachers designed to reduce the risk of insecure attachment and mental disorders and to support children's regulatory capacities and positive relationships with peers.


Students who are interested in applying to the graduate program in Developmental Psychology can find information on the
Department of Psychology
web page.
RESEARCH OPPORTUNITY
Undergraduate students interested
in becoming Research Assistants during the semester or for a summer intership can fill out an online application.
CONTACT INFORMATION

Maryland Child and Family
Development Laboratory

Department of Psychology
University of Maryland
College Park, MD
301-405-0009
mdchildfamilylab@gmail.com

Directions to the laboratory